Five Great Baby Toys for the First 12 Months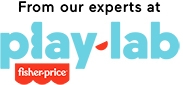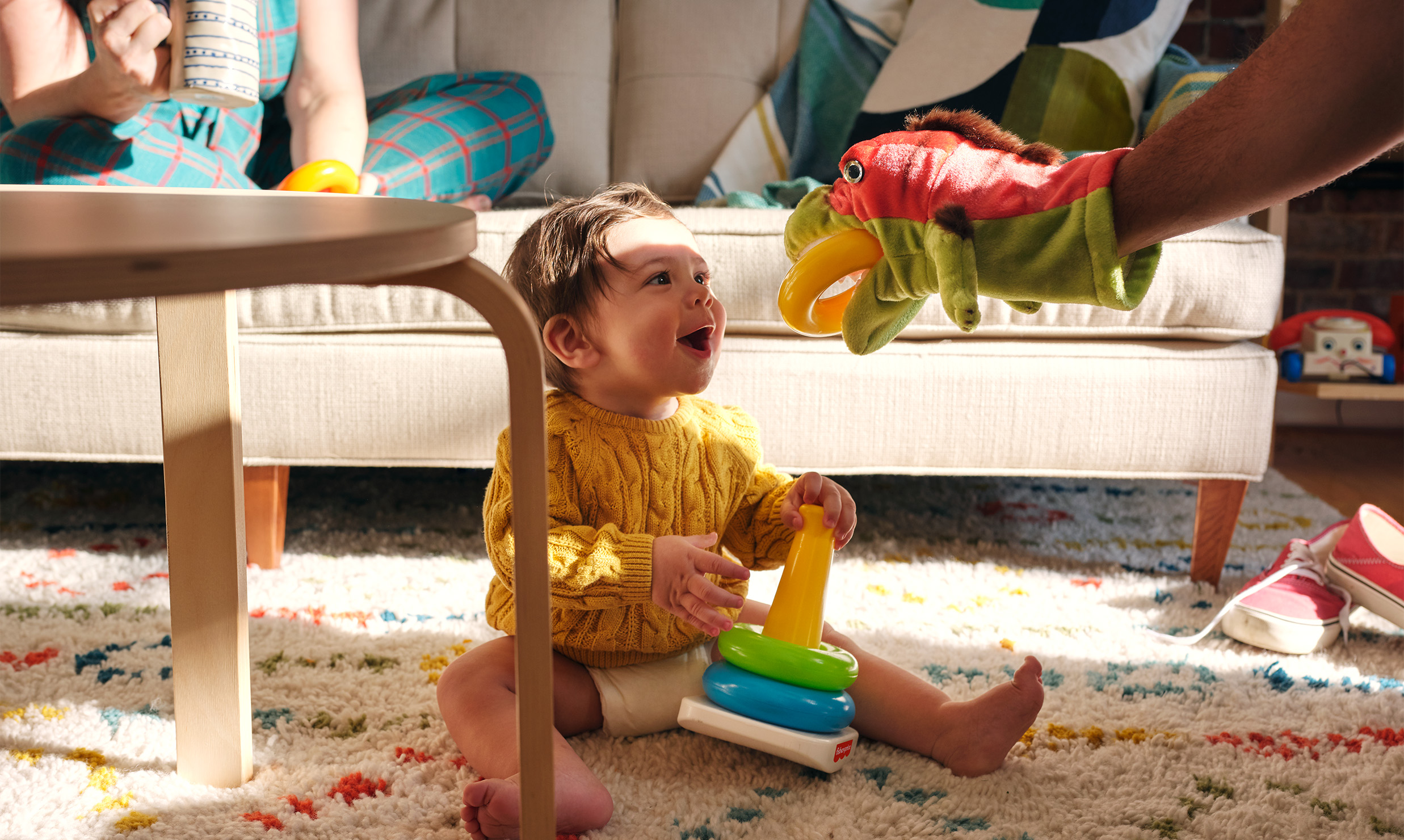 They're awake, changed, and fed…now what? Well, now you just need to find ways keep your baby entertained. Sounds easy enough, but as a new parent it can be tough to know which toys and activities are right for your baby during all those early ages and stages. Luckily, there are some playtime essentials that are proven performers at keeping babies busy (and happy) throughout their first year. And while these toys might look like they're all fun and games, they're also designed with your baby's development in mind so you can feel good knowing they're getting the most out of playtime.
0-6 Months
There's a lot to see, say, and do (and get into) these days. Get ready, because hands-on play is where the big discoveries happen.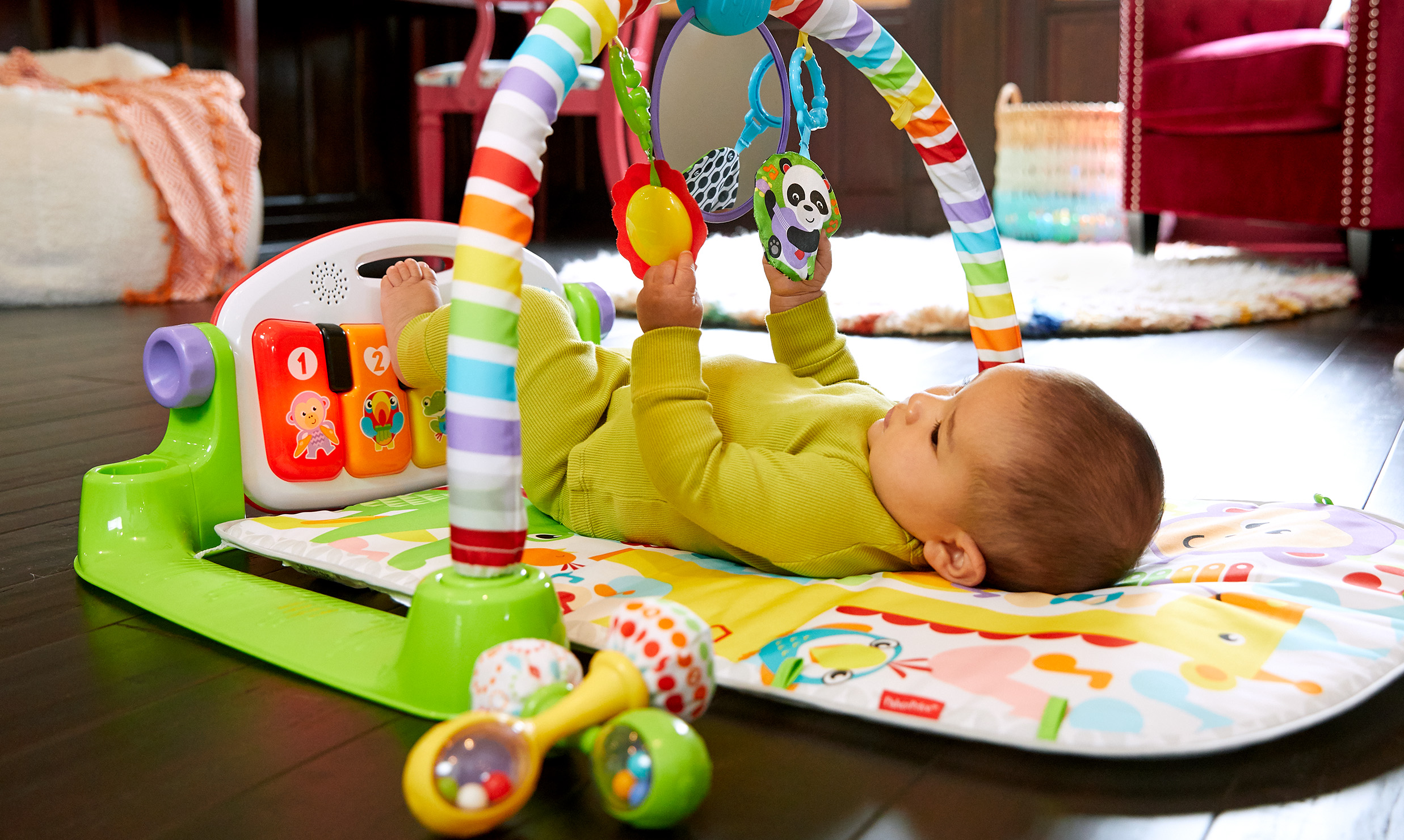 Deluxe Kick & Play™ Piano Gym
This gym is full of fun for years to come, with four ways to play that will keep your baby engaged as they grow. Start with lay & play and tummy time on the mat to help kick start your baby's development. As your little one starts to sit up on their own, move the toy arch to encourage sit-at play. Then, remove the piano keys to take playtime with you.
Early on, your baby will connect the act of kicking with the sounds the piano makes when hit or kicked. This helps introduce cause-and-effect (and they discover that making noise is just plain fun).
As they stretch and kick the piano keys, they're also strengthening gross motor skills and getting those little muscles ready for big things.
Toys that hang overhead (including a mirror for self-discovery) and bright colors help stimulate your baby's visual senses, while music strikes a chord with their auditory skills.
Smart Stages® learning levels allow you to switch up the music, songs, and learning content to keep the fun going as your little one grows. Start with engaging your baby's senses with lights and music at level one. Switch to level two to introduce learning about animals, and then unlock even more learning at level three with songs and phrases about colors, shapes, and numbers.
6-12 Months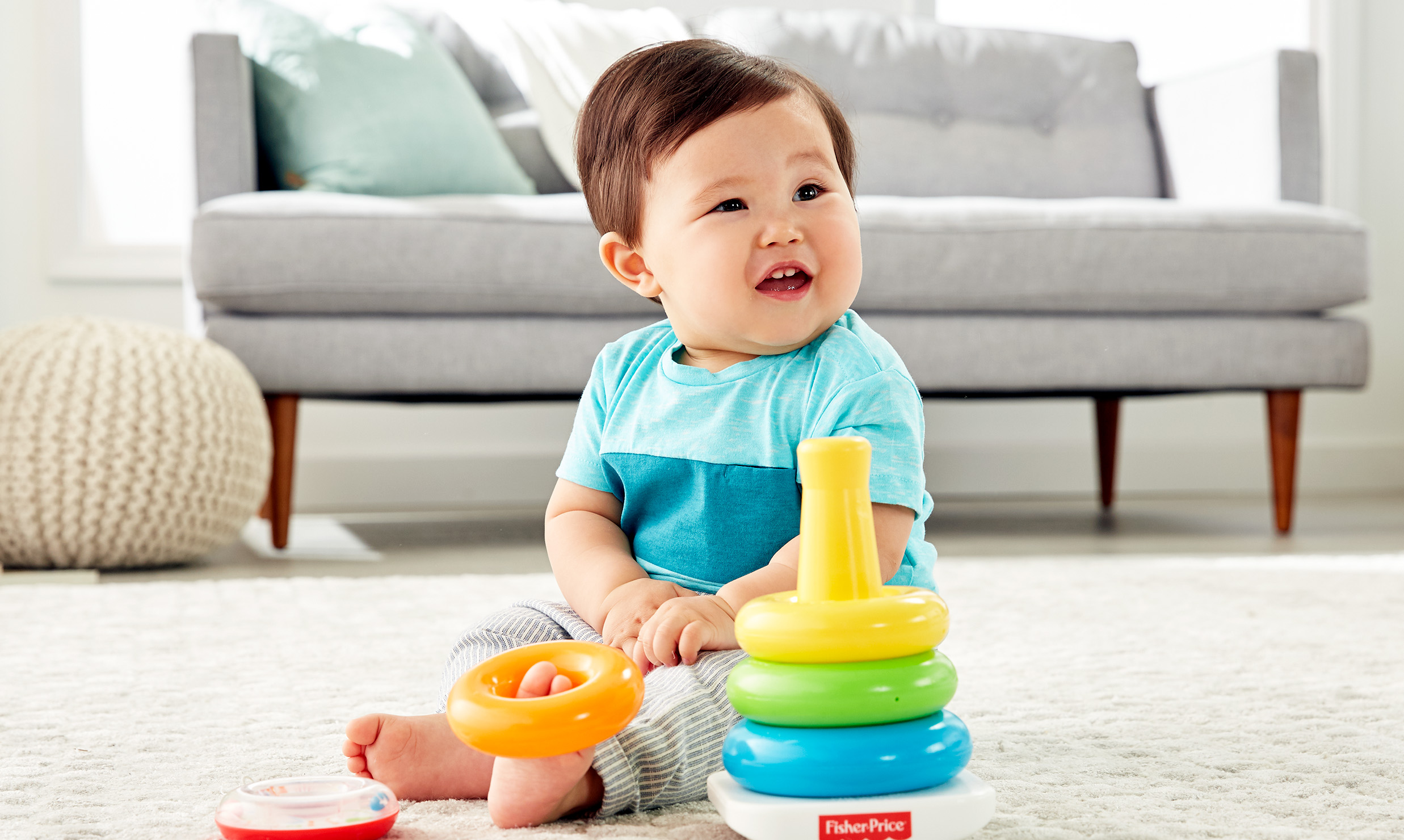 Rock-a-Stack®
At first, your baby might just grasp and play with the rings but that's just getting those fine motor skills ready for the next step – stacking.
When they start to sort and stack the rings (any way they want, in any order) they're building hand-eye coordination.
"The big blue ring goes on the bottom." As you hand them rings, you can start to introduce color, order and size.
Your baby can start to grasp the concept of sequencing as they learn to sort and stack from biggest to smallest.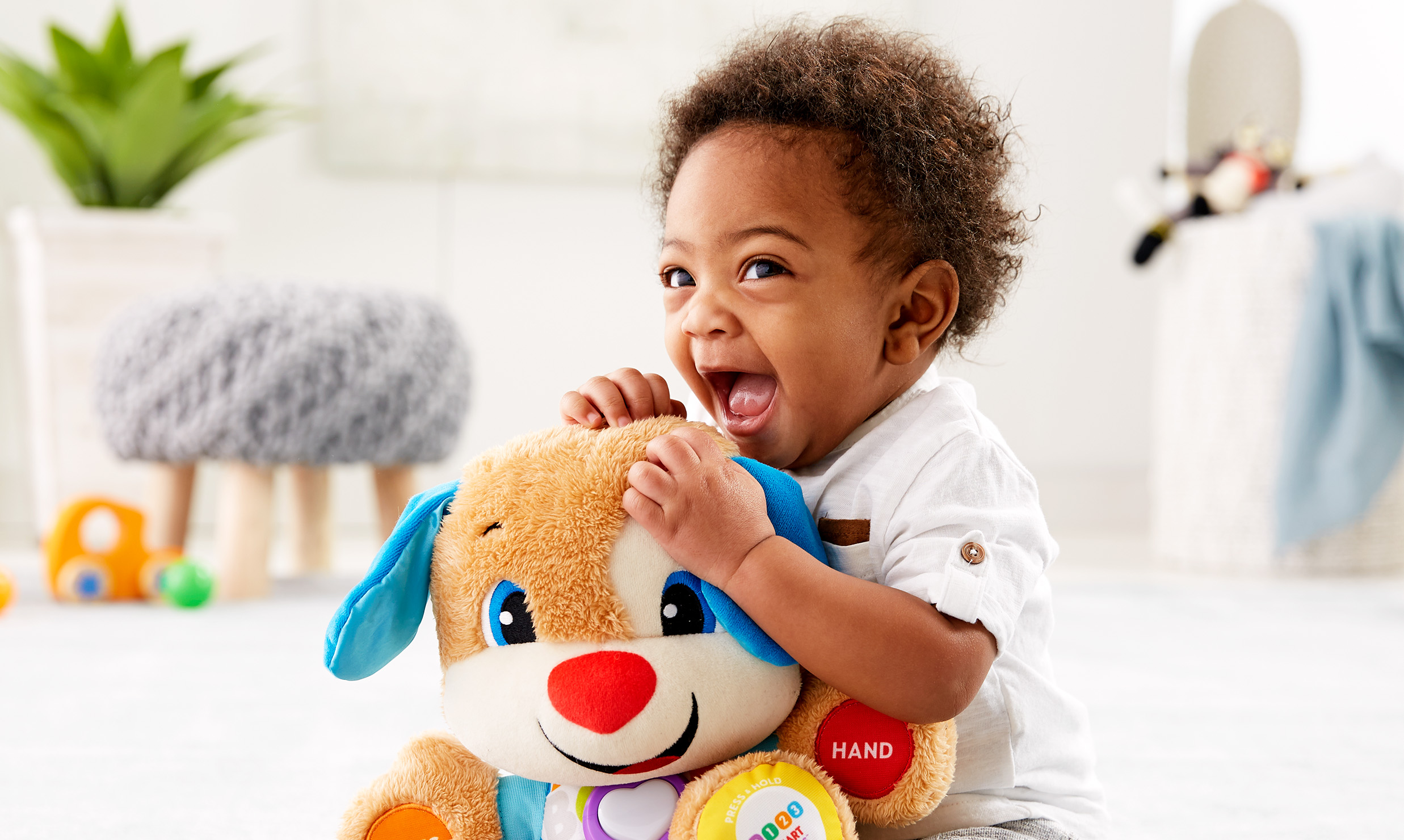 Laugh & Learn® Smart Stages® Puppy
You never forget your first best friend, especially when it's a cuddly dog that helps teach you first words, parts of the body, colors, shapes and more!
With hands and feet (actually, paws), an ear, and a light-up heart that respond to touch with songs and phrases, your baby gets another fun lesson in cause-and-effect.
3 learning levels include 75+ sing-along songs, tunes, and phrases. And because every baby develops at their own pace, Smart Stages® technology lets you choose the level that's best for your child.
1 Year Old
By twelve months, your "baby" isn't such a baby anymore. From growing independence to growing physical skills, they're discovering something new every day – and every play.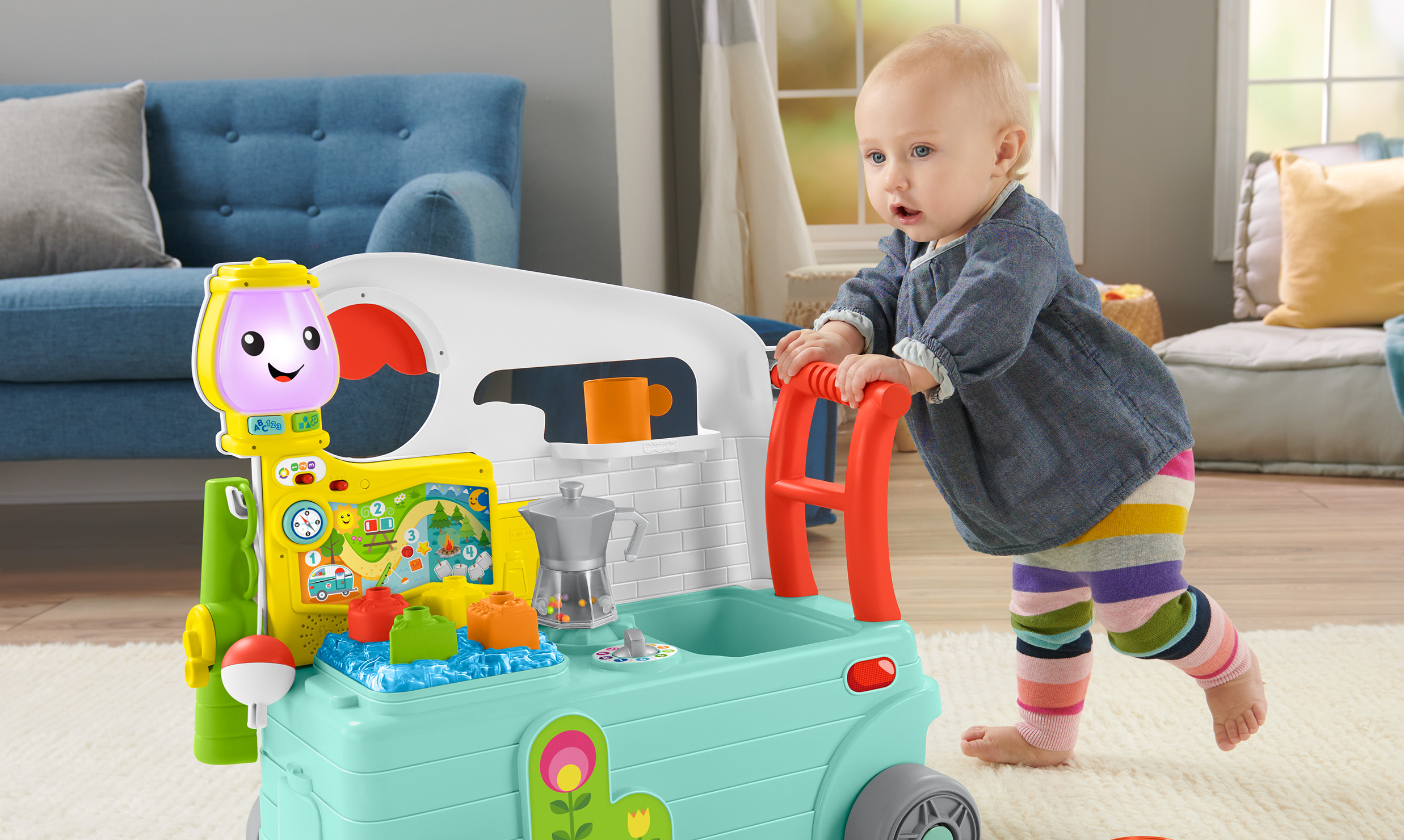 Laugh & Learn® 3-In-1 On-The-Go Camper
From exploring the great indoors to camping in the living room, this walker and activity center is ready for every big adventure – including first steps!
Fun lights, songs, and sounds help encourage them to push the camper along.
3 Smart Stages® learning levels help teach colors, counting 1-10, shapes, and the alphabet.
15+ play pieces are perfect for pretend camp outs, including a fishing pole, 4 fish shapes to 'catch' and sort into the cooler, and play food to 'cook' over the pretend campfire.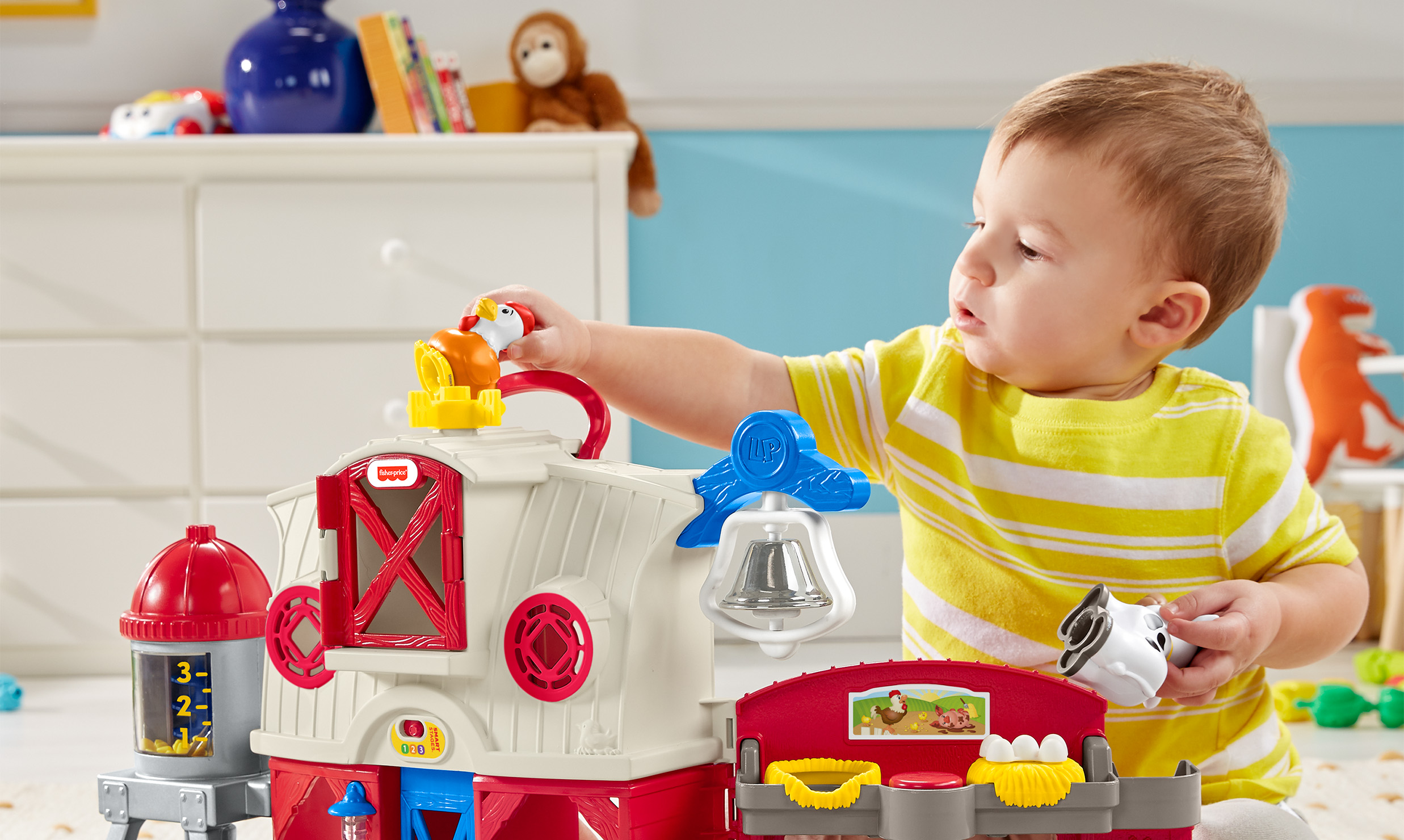 Little People® Toys
Your baby (now technically a toddler) is becoming more and more curious about the world around them. Little People® figures, vehicles and playsets help bring that world down to their size so they can explore it with their own two hands.
It might start with just throwing the figures in the Big Yellow School Bus and rolling it across the floor. But, as they grow (and their imagination grows), so will their storytelling skills.
MOOO! When children play with a playset like the Caring for Animals Farm and animal figures, they get to discover the sounds the animals make, where the animals live, and what they eat, just by playing.
"Children learn best in a playful environment. The more children play, the more they learn. They find out about themselves and about the world they live in, in the most natural way. Providing a well-rounded toy box gives you a variety of ways to encourage development of different skills."