New Barbie® DreamHouse® Dollhouse with Pool, Slide, Elevator, Lights & Sounds
Ages: 3+
Not available for sale
Offered price of the product is
$
199.99
Product Features

When young imaginations open the door to the new Barbie® Dreamhouse®, they'll discover unlimited storytelling possibilities! Standing 43 inches tall and 41 inches wide, this dreamy dollhouse inspires 360-degree play with three floors and 10 indoor and outdoor living areas. Move right in and customize the space -- the grass area and pool can be placed in multiple configurations on the first and third floors, and the slide fits in four second-floor locations. After designing the layout, set the scene for any story with three songs, two soundscapes and customizable light settings! Then, double the fun with transforming furniture -- the BBQ grill reverses to reveal a dessert buffet, the entertainment center reverses to reveal a pet play area, and a bunk bed folds down from the wall. Kids can play out any story, from an ordinary day to the ultimate get-together with a kitchen, living room, dining room, bedroom, bathroom, pool, balcony, party room and more. Lift and lower Barbie® doll and her friends in the working elevator, fill the pool with water to make a splash, soak up some sun on the third-floor balcony and rooftop deck, and host a pet playdate with a puppy pool and slide. Storytelling accessories -- over 75 of them! -- feature realistic touches and textures that bring any Barbie® story to life. With cool customizations and so many storytelling opportunities, kids ages 3 years old and up will move right into the Barbie® Dreamhouse® and make it their own! Assembly required. Dolls, vehicle and wheelchair not included. Requires 3 AA (LR6) alkaline batteries (not included). Colors and decorations may vary.

Measuring 43 inches tall and 41 inches wide, the fully furnished new Barbie® Dreamhouse® inspires endless imagination with 10 indoor and outdoor play areas, customizable features and 75+ storytelling pieces!
Dreamy features include a working elevator, party room with a DJ booth, second-story slide with a pool, balcony with a repositionable hammock swing and a puppy play area with its own pool and slide.
Customizations let kids design their own dream home -- the grass area and pool can be placed in multiple configurations on the first and third floors, and the slide fits in 4 unique locations!
Set the scene for any story with realistic sound effects, 2 soundscapes, 3 songs, 8 light color options, and 4 light settings including day mode, night mode, party mode and mood lighting.
A third-floor balcony and rooftop deck inspire outdoor living -- bring everyone upstairs in the working elevator that can lift and lower 4 dolls or a Barbie® doll in a wheelchair!
Discover wow moments on every floor with transforming pieces, like a bunk bed that folds down from the wall, a BBQ grill that reverses to reveal a dessert buffet and an entertainment center that doubles as a pet area.
Bring detail to playtime with 75+ storytelling pieces featuring realistic touches and textures, like plush blankets, modern décor and grass that's soft to the touch!
Kids ages 3 years old and up can move right into the new Barbie® Dreamhouse® and discover playtime possibilities in every room. With customizable options and so many play areas, they'll never run out of stories to tell!

SKU #: GRG93
Video
Demo Video

Welcome to the Barbie® Dreamhouse®!
With 10 play areas, cool customizations and tons of dreamy features, the playtime possibilities are endless. Step inside and discover WOW moments on every floor!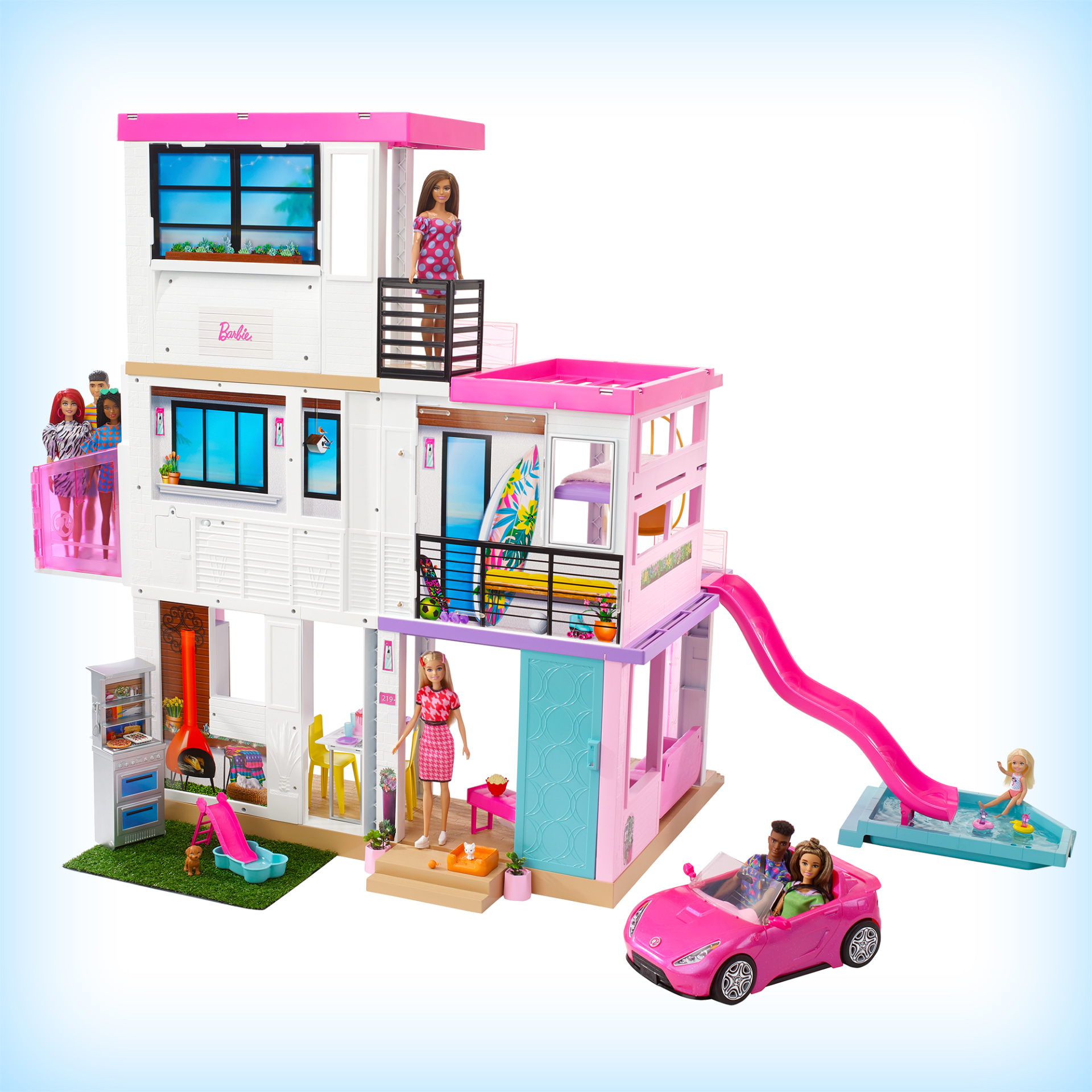 360-degree play and modular pieces inspire hours of storytelling. Kids can rearrange the pool, slide and grass area to design their dream layout!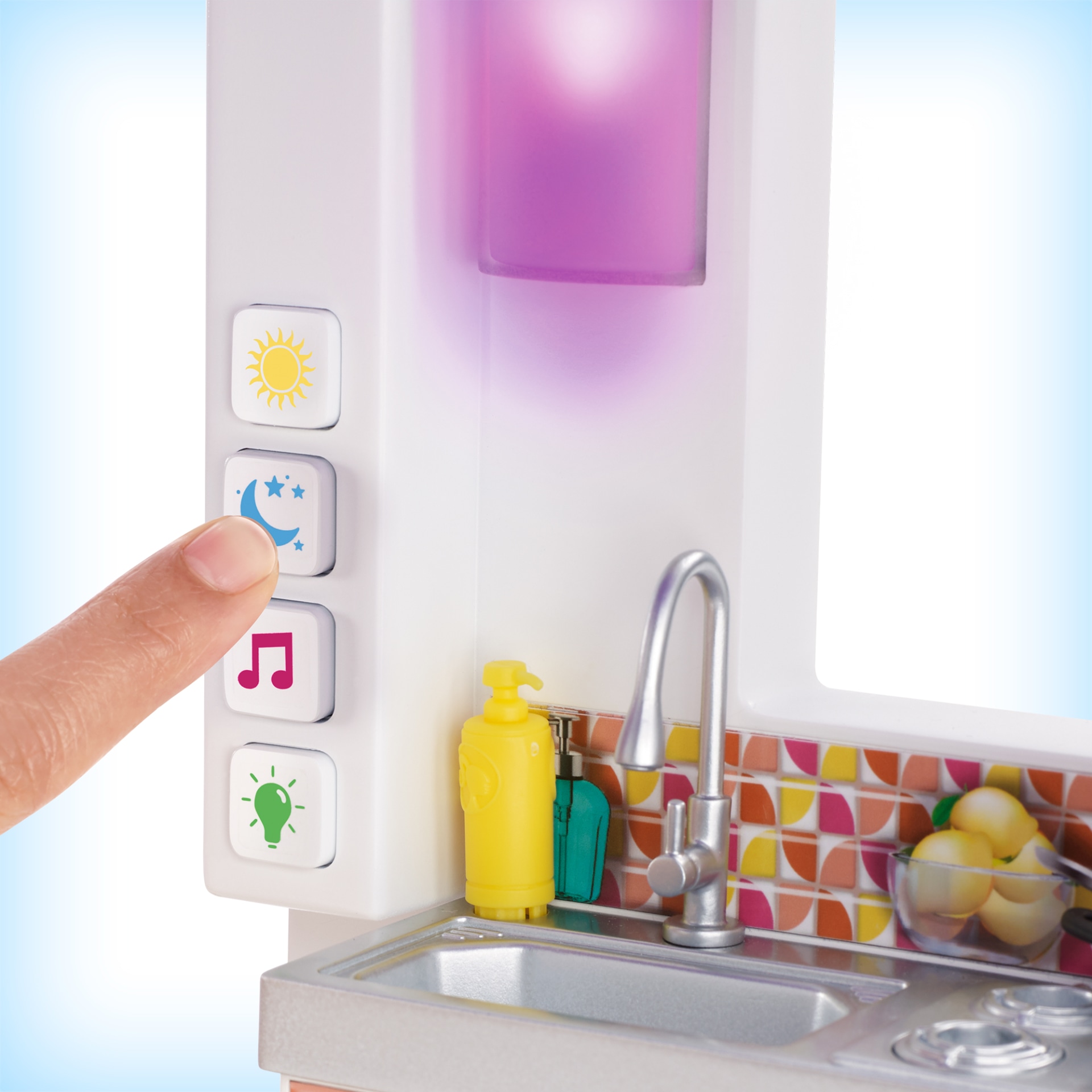 Soundscapes, songs and light settings let imaginations take the story from day to night or playtime to party time with the touch of a button!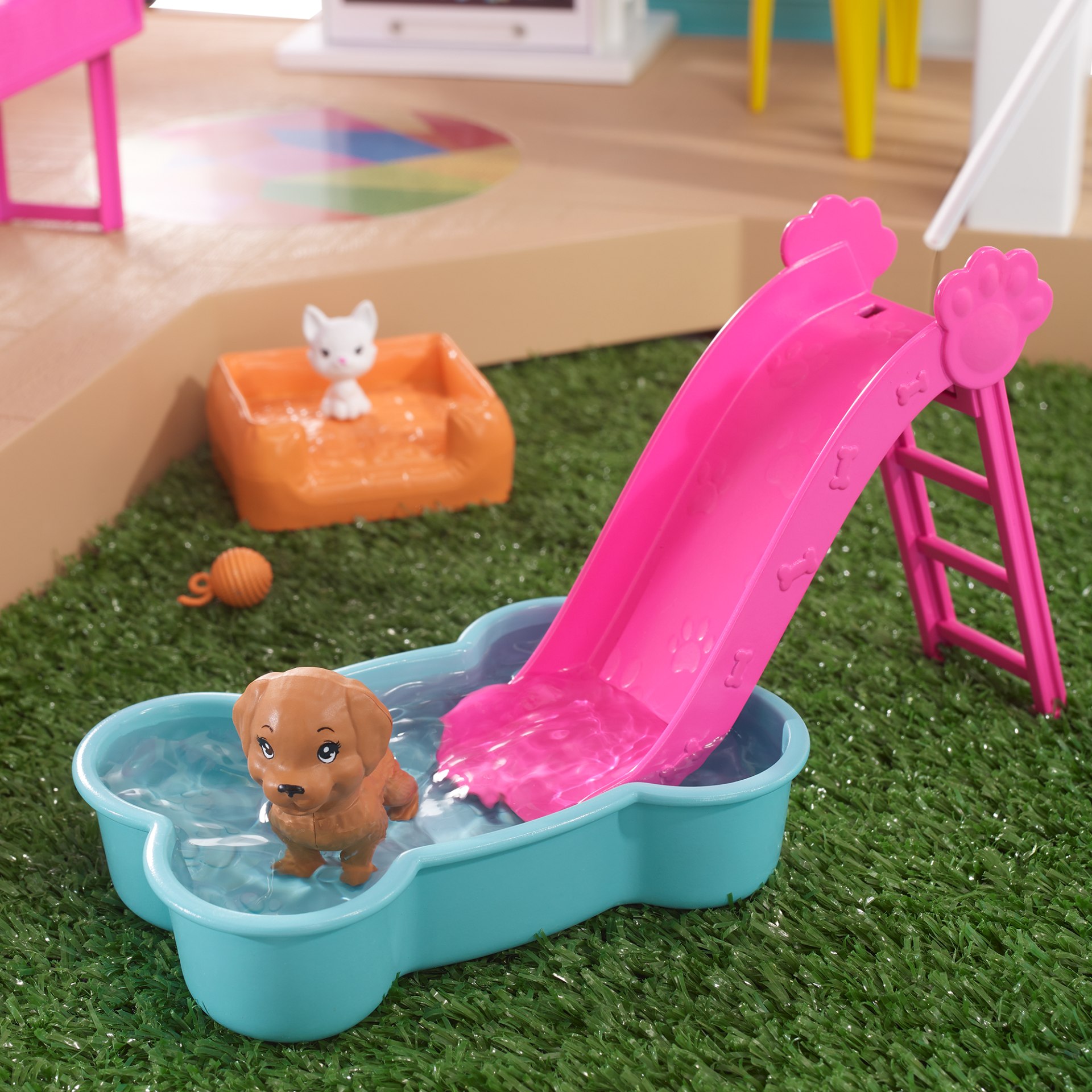 Pets welcome! A puppy and kitten are included, and they've got their own play area with soft grass, a pet-sized slide and a pool!
Appliances feature lights and sound effects to spark realistic storytelling and complete play!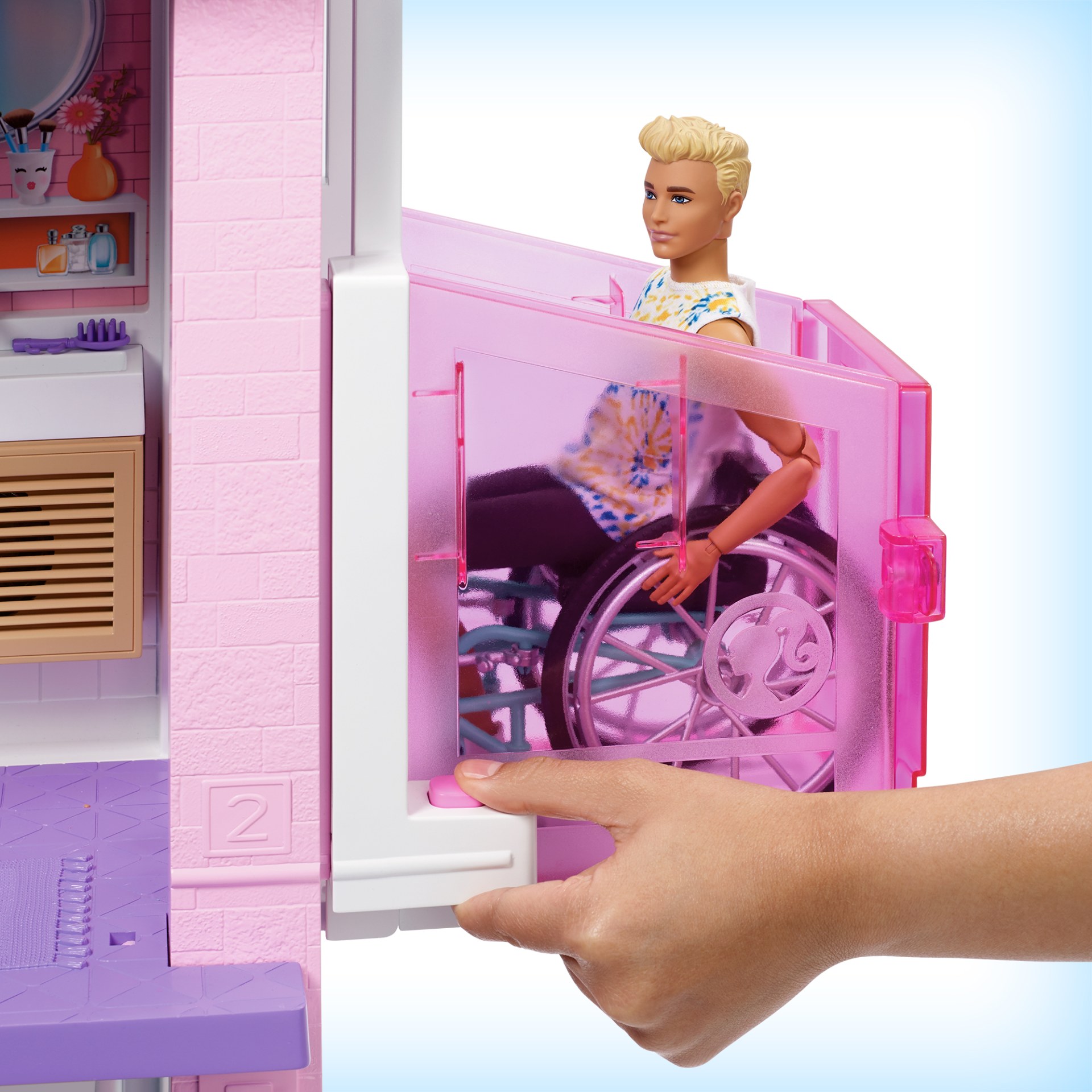 The working elevator fits 4 dolls or a Barbie® wheelchair. Kids can place their Barbie® dolls inside, then lift and lower to any floor!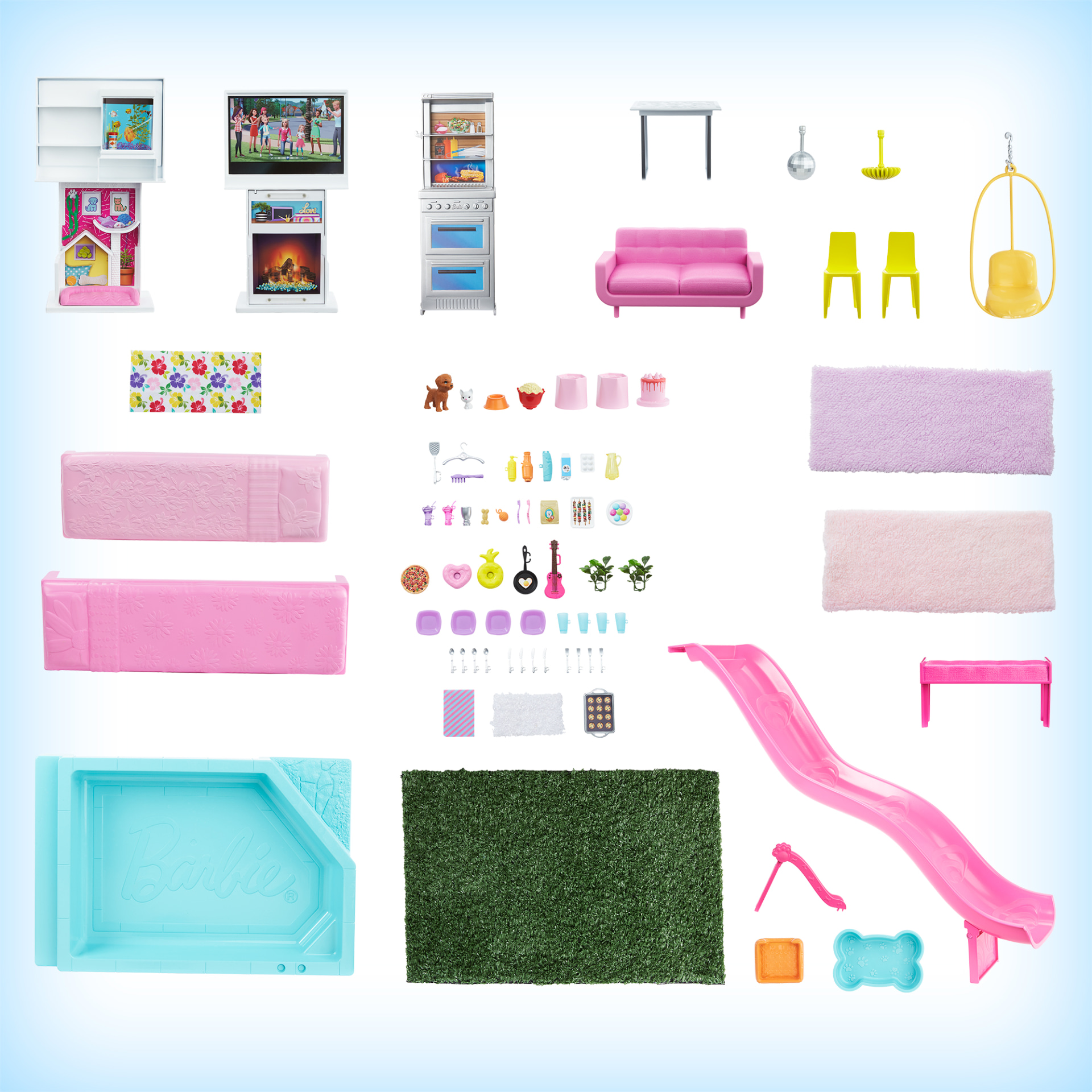 Bring detail to playtime with 75+ storytelling pieces including plush blankets, modern décor and furniture pieces that transform for double the fun!

Hours of Play Await!
Kids ages 3 years old and up can move right into the Barbie® Dreamhouse® and make it their own. With customizable options and so many spaces to explore, they'll never run out of stories to tell!
Explore the DreamHouse Digitally
View the 3D model to see even more details of the all-new DreamHouse! Rotate and watch customization ideas come to life.